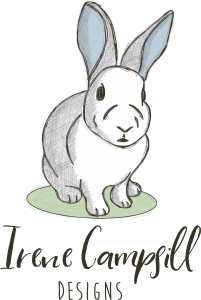 Welcome to Irene Campsill Designs.
Handmade designed bags, accessories and homewares  mainly made from recycled textiles (kilts, vintage fabrics – really anything that inspires) so you can feel good about your purchase and know that you are doing your bit for recycling.
The shapes of the bags are designed so that you can use them everyday and carry all the essentials of your life – functional – but also fun to use reflecting your individuality  and personality.
The designs of the appliqué and free motion embroidery will reflect your love of nature and the countryside.  As each design is produced by free motion embroidery (in effect painting with your sewing machine) and hand embroidery – each design is unique to you – a one off.
I work (for work read 'play) from my workshop in the garden of my home in rural Lincolnshire.  I now have two workshop assistants, Archie and Meg, who do quality control and will not let anything leave the workshop until we are all assured it is perfect.
Are you looking for something specific – some animal, bird, flower that you love or brings happy memories – do please get in touch – I'd love to work with you.